Oil Spill recovery

and clean-up
As soon as our Response Centre is activated with an oil spill, the operations command assesses location, byproduct features and the magnitude of the event.
Once assessment is performed, contention strategies are immediately deployed over spilled hydrocarbons.   This is a situation that requires proper know-how, experience, training and lenghty focus under strict safety measures.
Clean-up duties involve oil spill containment and recovery.  Once oil by product has been recovered, this is properly storaged in a proxy location to the affected area and then transported in agreement with dangerous substances transportation and disposal norms, to a final, authorized disposal and treatment location
We make ourselves responsible to implement turn-key solutions to our customers both thru oil spill right-away response, natural or man-made disasters, among other environmental emergencies.
COAM has participated in oil spill responses since 2008, being the M/N Lydia Oldendorff, the M/N Sydpoleni, M/N Casiopea among vessels involved in important spill events and, also, at Cavero beach, among other contingencies.
We focus in understanding the specific needs of our customers so that strategic steps are accurately defined with our aim at providing prize-winning, safe solutions in a timely manner, for each of our services.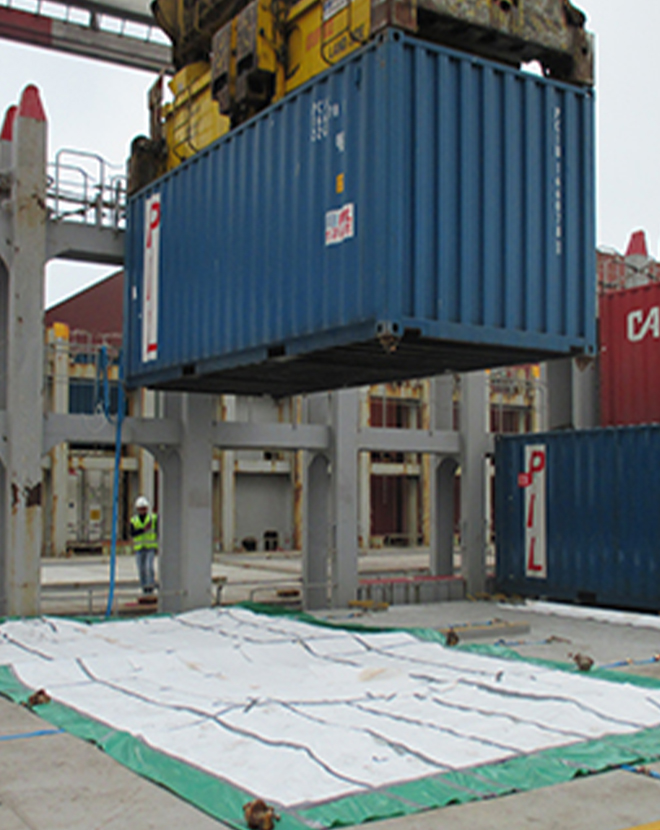 The scope is to avoid major damage and impact from the contents inside these damaged units in the environment where these are parked.
For that purpose, we proceed to identify the damaged unit, assess the spill nature onboard and set up the suitable strategy, operate and solve the contingency.
The isolation of the container unit is a common practice, which is then covered and wrapped with absorbant materials, following operations and strict safety methods which are specified in our manuals.